Novocain Can Create a Pleasant and Comfortable Dental Experience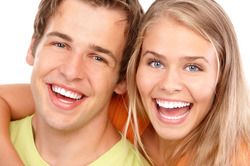 In order to repair worn and damaged teeth, Dr. Bruce Wilderman performs restorative dentistry procedures that improve the strength, function, and beauty of the smile. While these procedures are effective, they can be painful if performed without the use of anesthesia. That is why our cosmetic dentistry practice ensures patient comfort throughout treatment by employing the use of local anesthetics containing Novocain. For our patients in Philadelphia, Novocain numbs the treatment area so that patients can undergo the dental treatments that are required without pain or discomfort.
How Long Does Novocain Last?
Dental anxiety is a common ailment and can be of special concern for patients about to undergo an invasive dental procedure. Many patients worry about the effects of Novocain and question whether they will last throughout treatment. There are many variables that determine how long Novocain will last. These variables include the amount of Novocain that is administered and where the Novocain is being applied. Dr. Wilderman will make a determination regarding how much Novocain will be used based on what dental procedures are being performed. We will ensure that patients are under the effects of anesthesia throughout treatment and patients can typically expect to continue to feel the effects of anesthesia for a couple of hours after treatment.
When Do the Effects Begin?
Novocain is a fast acting drug that takes very little time to create a tingling or numb sensation in patients. However, the anesthesia does typically require an injection, which can be its own source of pain or anxiety for patients. Dr. Wilderman believes that all dental treatments should be truly pain-free for his patients so he employs us of The Wand®, which is an anesthesia delivery system. The Wand® looks very similar to a pen and it slowly administers anesthesia to the treatment area so that no pain is felt even leading up to treatment. With this system, Dr. Wilderman can offer patients a pain-free dental experience from start to finish.
After Treatment
Dr. Wilderman is very precise with his Novocain use and it is his goal for patients to remain numb throughout treatment and to have the effects wear off shortly afterwards. While most patients should be free of the effects of Novocain within a couple of hours after treatment, there are some precautions that patients should take while Novocain is in effect. Because patients will be unable to feel the cheeks and lips, it is advised that eating and chewing be avoided until the effects of Novocain have worn off completely. Otherwise, the patient could easily bite down on the lips or cheeks, causing a painful injury that will be felt once the effects of Novocain have subsided.
Schedule an Appointment
At Artistic Expressions Dentistry, Dr. Bruce Wilderman and his staff takes great care in ensuring that patients feel welcome and comfortable the entire time they are in our care. Creating a pain-free dental experience is just one way that we ensure our patient's satisfaction throughout treatment. If you would like to experience the superior care that is available at Artistic Expressions Dentistry, schedule an appointmen twith Dr. Wilderman at your earliest convenience. We look forward to meeting you!
Related to This