What Options Are There to Straighten My Crooked Teeth?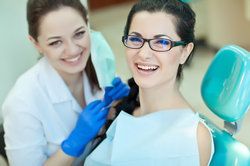 When your teeth are crooked, it can mean more than just an aesthetic problem. Sure, gaps and asymmetry are unsightly, but your tooth misalignment may also be the cause of other problems, such as pain and soreness in the mouth, teeth grinding (bruxism), and TMJ disorders. That's why it's important to visit Artistic Expressions Dentistry here in Doylestown. During your consultation with Dr. Bruce Wilderman, you can learn about all of your teeth straightening options such as Invisalign, traditional orthodontics, and porcelain veneers.
We'd be more than happy to go over all of your options for care in full detail during your visit. Right now, let's just cover the basics of various procedures that can straighten your teeth.
Porcelain Veneers: A Cosmetic Option for Teeth Straightening
When you have misaligned teeth that do not affect the health of your jaw joint or the overall nature of your dental alignment, the issue is purely aesthetic. In those cases, you only need a cosmetic treatment rather than full orthodontic care.
One of the ideal options for treating minor tooth gaps and issues with alignment is porcelain veneers. These thin shells of custom-made dental ceramic mask imperfections on your smile, making your teeth appear totally pristine. The porcelain veneers are semi-transluscent and blend in seamlessly with natural tooth structure, meaning that no one will realize that they are in place.
The effects of porcelain veneers treatment are quite remarkable, able to achieve results comparable to orthodontic care in just two visits. This is why many people have nicknamed porcelain veneers "instant orthodontics."
Traditional Orthodontic Treatment for Straightening the Teeth
When your have teeth that are misaligned and it has an impact on your dental health and overall wellness, porcelain veneers won't be ideal for your needs. In such cases, traditional orthodontic treatment is most ideal.
Metal braces are common for children as well as adults to address issues with general alignment. For serious underbites, overbites, and crossbites, the use of spacers and headgear may be used, though these tend to be more common in young patients rather than adults. Your orthodontic treatment will be carefully tailored to your needs.
Invisalign: An Alternative to Traditional Braces
Invisalign is a popular alternative to traditional metal braces. Rather than using brackets and wires to improve dental alignment, Invisalign uses clear plastic aligner trays that are custom molded to the patient's mouth. New trays that are computer-designed are worn every two weeks in order to gradually shift the position of a patient's teeth.
Invisalign is especially popular with adult patients and teens since the trays are barely noticeable when they are in place, allowing patients to get the orthodontic care that they need without anyone noticing. In addition, the Invisalign trays can be removed with ease, allowing patients to eat their favorite foods and clean their teeth without any hassles.
Schedule a Consultation for Enhancing Your Dental Health
If you have crooked teeth and would like to find out which treatment option might be ideal for you and your, we encourage you to contact Artistic Expressions Dentistry today. By speaking with Dr. Bruce Wilderman about your dental heath concerns, you will be able to have a healthy, beautiful smile.
Related to This